Trinity 2018 (Vol LXXXI, No. 5, pp 52-54)
Up to the Heavens
A Review of Sofia Starnes's The Consequence of Moonlight
In her new collection, The Consequence of Moonlight, former Virginia Poet Laureate Sofia Starnes holds up our illuminating but limited language until it dims the light we think we see by. What's left is a mysterious moonglow that immerses the world in stories we cannot help but follow. "Does not your heart," the poet asks early on, "weary from things apparent, / ask what each storyline will tell, // which words carry their roots with candor?" ("Emerge," 22).
This willingness to trail and engage language—and thus all we define with language—opens up to the reader worlds of misses and near-misses, birds and saints, bicycles and baptisms, the bodies of lovers and the Lenten corpse of Christ. Throughout, we are called to examine and reflect. "A word," Starnes tells us, "depends on impulses—air-catch, air-lease—that hold its meaning hostage. // Language, like the dawn, is the defeat of hours / and a second's gain….Shouldn't we ask // who and why, the plot and the denouement, the ache / for endings?" ("Last. Child. Last. Child.," 52).
In a world where belief can hinge on language and hurt and heal can be close cousins, Starnes taps into our desire for destination and arrival. Despite the misses and near-misses of accidents and lost opportunities, she moves toward love and afterlife. Unafraid to "brave a new calligraphy of skin" ("Love and the Afterlife," 120), she patiently travels toward final meaning.
And yet, never does she rush the journey, be it across Galicia or the rough terrain of the soul. Steadily, the trek from Point A to Point B moves us, as readers, toward epiphany. Knowing who we are and from whom we come "starts with a little leaf / that tells us how our bones / are like luxurious stalks / grafting in secret" ("Ancestry," 35). It calls us to observe and learn from nature—as in the closing lines of "The Clover":
    Come,
 see the sky the moon the sun,
            the non-erroneous olive branch
that falls on human hearts;

falls on the errand bird and
            bloom: they do not know
            the good they do,
or wonder how
            the good gets done. (39)         
With its content sparrows, lambs, and doves, the poem echoes Matthew 6:28 and its injunction to stave off worry. The lamb seeks the clover, but knows no anxiety in doing so. The dove, "a harbinger of peace," nevertheless is "no wiser / than the dawn or dusk" (38).
The poet also associates birds with calm in "Baptism of Desire," and yet a calm that is not easily obtained: "Again, an eye on whirled and wintered / bird. Awareness is the proper name for nest. //Restless we live….Until, confessed, // we hunger for the birds" (91). Likewise, in "Tunnelers" she laments, "Come April, we are nothing, / nothing like the birds…" (93). It is language that helps approximate her sense of restless urgency for both the heavens and the calm the birds inhabit, as well as their noisy fleeing. It is language that leads us as readers into both experiences.
In "The Bridal Ferns," the poet further contemplates such nuance by following the philosophical breadcrumbs of her questions:
I wonder how such puny a word as pit,
could be both seed and slum, both dormant agency
and tomb; both conflict verb—met up against—

and scoop; a stone that yields, yields small,
yet hurts the hand. I wonder how,
but pittances deceive: this is the way of potency

and plea; the soil is notched by hooves
and by the Fall, and then by fledglings,
insecure.

How measured is the earth for gift and scar,
for creaks and croons, for the precarious child. ("The Bridal Ferns," 69)
Throughout The Consequence of Moonlight, the poet negotiates sound and sense—"we try 'aloft' and 'lamp' for meaning" ("The Consequence of Moonlight," 87)—noting how "[t]he world survives / through barter" ("Peddled Looms," 59). Often, she arrives at language that speaks to our desire—on the physical/spiritual and adult/childhood levels—to name and be named, to love and be loved.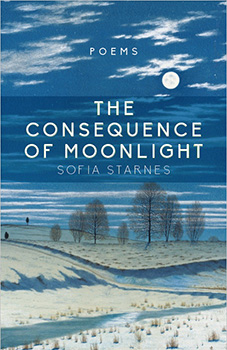 For instance, in the poem "Unknowing," she describes how even if we forget the "bright red apples dangling….if they fall, we shall remember thud, / and with each peel, the aftermath of leave." In this reflection on memory, loss, and love, we hear echoes of Eden and its Tree of Knowledge of Good and Evil. Yet, in the poem what immediately follows is a call for intimacy: "Touch me, my love. For knowing reconvenes / as constancy. // We had a birth, a life of fingertips. / How do we know? / How, but through trembling" (44-45).
Thus through language we call out to be heard, known, and understood. We reach toward "learn[ing] the residue / of taste" (103), "the urgency of touch" (96), how "evening light translates to evening / wind" (91). Starnes invokes us to immerse ourselves in the natural and spiritual through experiencing language.
In this same collection, though, the poet also acknowledges the limits of language. We must not be afraid, she explains, to move beyond words into solitude. We must "know the stillness / for what it brings" ("Exodus," 63). Similar to the moonlit saints in her title poem, we must welcome stillness: "[a]nd so, from word we turn to wordless" ("The Consequence of Moonlight," 87).
In part, such quieting allows us to fully experience the world around us. We observe; we contemplate; we take in. As Starnes explains in "Mushrooms," "Where / nothing feels, nothing is ever real. / Heaven, I think, lives off our daily / skin, props us as sentient mushrooms / on our stems, stems over healing / wounds, wounds over soil, / over the gutsy beds of streams—oh, / how the glorious body happens" (25-26).
Using what she observes of our vibrant, complicated world, Starnes connects us to ourselves as well as to the world to come. She encourages us to embrace the deeply felt, be it joyful or painful. Many of these invocations come through poems that focus on a child named Elena, which Starnes notes is "etymologically akin to the moon….[and] harks back to our being called by name" ("A Note to the Reader," 122). In the poem "Elena, Halfway (Or: The Quality of There)," Starnes cries out, "Come, swallow whole your share // of grief, for no one pushes off with half / a heart, or half an awe, / or half the obliging lung" (41). There is happiness, struggle, and loss in these poems. In them, as the subtitles suggest, the persona also approaches the qualities of "Departure," "Forgiveness," "Detachment," "Assent," "Oblation," "Here," and "Return."
In other poems as well, Starnes addresses moving from this world to the next, where "[e]ternity slips in as something else: / new skin for our elusive shadows" ("A Mode of Permanence," 80). In "Mortality," we hear echoes of T. S. Eliot in "It will be fine; it will be fine, / to leave this rented consequence / with nothing but our borrowed feet, / to trade this skin—our reach, our dearth—both sanctuary and residence, // far nearer to our bones than we, / for vacancies in glory" (24).
Starnes further weaves together natural and spiritual themes in the three sections of The Consequence of Moonlight by placing biblical verses at the end of eighteen of the sixty-nine poems. Such placements amplify the collection's move from self-discovery, to doubt and rebirth, and finally to "a meditation before the Crucifix…[where] we discover who we really are, through the One who calls us, tirelessly, by name" ("A Note to the Reader," 123).
This final section is especially powerful. Beginning with the long poem "Meditation on a Lenten Corpse," Starnes draws together earlier themes. In "II - The Carver," where the sculptor "wouldn't think idea / the right word" (84), the poet asks us again and again to feel: "Not flash, but feel, grasp, gauge, glory. / Throb and texture" (84). In "IV – Resurrection," she concludes, "It is not memory that makes us, not the spellbinding lace / on nitty-gritty nerve-ends," then moves us beyond what is lost to the connections that remain: human and divine love. It is her love's cheek that carries her "beyond remembering." It is her hope in the divine that propels her even further: "I'll press it; part need, part instinct—no, all instinct, true / as genuflect love. Lose and God gives. / So ready, ready to resurrect" (86).
The moon, the saints, the child Elena, and images of childhood and birds also reappear in this final unifying section. "The consequence of moonlight / is a sigh, / and saints out in the garden, strong / and pure, lift stories, as if bodies, / to the sky" ("The Consequence of Moonlight," 87). Here, the poet is also lifting the reader through her narrative up to the heavens, where "a bevy of crows" flocks and "moonlight darts" ("White Crow," 100). In this world between worlds, the skies are "a grant of memory" ("A Viable Way Home," 109) where we arrive, finally, at "[a]ll this: the journey of a vast world / through our ears, whispered as breeze / and finishing as birth" ("What We Know," 98).
And so, as in Eliot's "Little Gidding," "the end of all our exploring / Will be to arrive where we started / And know the place for the first time." The cost of all this according to Starnes? "Invasion, inhale, intake…the bonus of reflection" ("After-Rain," 114). In the final lines of her book, Sofia Starnes again shows the consequence of moonlight: the ability, like the saints, to shine light on the dark; to be both of the world and beyond it. "This much is heaven in our push and brink," she concludes, "this much is world. / For all the love we root in afterlife, time // to greet earthly flesh: here, we conceive / a heart, here between fern and fence, // the tenderest outlast—" ("Love and the Afterlife," 121). What language and life follow the final dash is ours for the choosing.
Marjorie Maddox is professor of English and creative writing at Lock Haven University. She has published eleven collections of poetry, most recently True, False, None of the Above (Poiema Poetry Series and Illumination Book Award Medalist). For more information, visit www.marjoriemaddox.com and @marjoriemaddox.